Beauty & Self
Books & Music
Career
Computers
Education
Family
Food & Wine
Health & Fitness
Hobbies & Crafts
Home & Garden
Money
News & Politics
Relationships
Religion & Spirituality
Sports
Travel & Culture
TV & Movies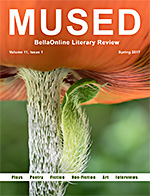 In our modern world of 24-hour diners and around-the-clock email, it sometimes seems as if weíve lost track of natureís cycles. But then the Spring Equinox comes along and reminds us to pause. For thousands of years, cultures around the world have recognized this one special day as representing a balance of light and dark. Itís a unique moment in time where our world settles in equilibrium Ė just for a breath. And then the sunlight shines out and pulls us deeper into Spring.

Enjoy the Mused Spring Equinox 2017 Issue



Treat Yourself Cookbook Review
Desserts - Karen Hancock, Editor

Even though you may not want to bake, this excellent cookbook will inspire you to make luscious and creative crispy rice treats. A fun cookbook for all ages!




Eucalyptus Trees in California
California - Korie Beth Brown, Ph.D. , Editor

In many parts of California, eucalyptus trees seem to be part of the natural landscape. However, this particular tree isnít native to the state. Like many other examples of flora and fauna, the introduction of a foreign species to the eco-system has been a very mixed blessing.




The Potato Chip Scarf
Knitting - Korie Beth Brown, Ph.D., Editor

Itís called that because you canít stop at just one. Or because of the shape of the wedges. Or because itís a simple indulgence. Whatever the reason, itís a fun pattern to knit.




Yin Yoga Nomenclature
Yoga - Korie Beth Brown, Editor

Shakespeare once noted that ďa rose by any other name would smell as sweet,Ē but in the yoga world, thatís not exactly true. In the Yin tradition, concepts and asanas are given different names to remind practitioners of the ways in which Yin Yoga differs from its Yang styles.




Nix National Endowment for Arts - Why Not?
Art Appreciation - Camille Gizzarelli, Editor

I am an advocate of freedom of expression in the arts - but to a degree. The age-old question of 'what is art?' comes to the forefront. Do we need the NEA? Iíll discuss its rocky past and possible demise.




Grilling a Great Reuben Sandwich
Sandwiches - Connie Mistler Davidson, Editor

This article isn't really a recipe; it is more like a how-to, or tips for making this amazing sandwich. The sandwich is the beloved Reuben Sandwich, which can be a tasty treat or a total mess. Let me give you some secrets for making it as tasty as can be.


| Google+ |
E D I T O R R E C O M M E N D E D
Make Clothes for 18 Inch Dolls


With this book you can make a complete wardrobe for 18 inch dolls; including dresses, pants, jewelry, a bag and a crocheted outfit.
Eagle One is 2nd to None!


Everyone should have the basics to keep their rides shiny and road ready. The only way to do it is with Eagle One all day long!
Phoenix Rising


"No Eyes", a very wise, very insightful Shaman Indian takes Mary Summer Rain on a rare journey into the future where warnings of upheavals and challenges are gently yet thoroughly revealed out of love and preservation for her beloved Mother Earth.