Beauty & Self
Books & Music
Career
Computers
Education
Family
Food & Wine
Health & Fitness
Hobbies & Crafts
Home & Garden
Money
News & Politics
Relationships
Religion & Spirituality
Sports
Travel & Culture
TV & Movies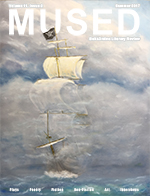 Our time on this Earth is fleeting and precious. We often know that in a vague, intellectual sense, and yet we can find ourselves whittling away those finite minutes without mindful thought. We should celebrate the beauty in a child's smile. The radiant sound of saying "I love you" to that special person. The warm touch of a hand. The delicate scent of a wildflower.

Enjoy the Mused Summer Solstice 2017 Issue



INTERVIEW 2 Elijah David
SF/Fantasy Books - Evelyn Rainey, Editor

Second of Two interviews with Fantasy Author Elijah David of the Albion Academy Quartet




Rev Up Summer Skin Care
Body Care - BB Lee, Editor

Revitalize your summer skin care routine with these easy tips!




IAAM announces African American Genealogy Center
Genealogy - Tina Sansone, Editor

The International African American Museum launches a groundbreaking African American Genealogy Center! Come learn more...




Make Your Own Rebelle Color Set
Digital Art and Design - Diane Cipollo, Editor

One of the nice features in Rebelle is the ability of import your own color swatches, called a Color Set in Rebelle. In this tutorial, we will make your own Color Set file and import it in to Rebelle.




Baby Shower Gifts to Sew
Sewing - Cheryl Ellex, Editor

Modern baby showers or parties have become traditional in welcoming the impending arrival of a new baby. They are equally a reason for family and friends to get together as they are an economic rescue for households needing various baby items to lessen the financial burden of new infant care.




Lisa Graham's Mexican Pork Tenderloin Recipe
Quick Cooking - Karen Hancock, Editor

Three ingredients and a slow cooker are all that are needed to make this easy and versatile pork. It will become a favorite any time of the year.


| Google+ |
E D I T O R R E C O M M E N D E D
LoMásTv


Highly recommended product, if you really want to improve your Spanish. While watching the video you have the option to read, in subtitles, the words in Spanish and, if you also chose it, you can read the translation (in English) for it. Simply... ˇGenial!
Life Extension Mega Green Tea Extract


Green Tea, or Camellia Sinensis, has been a hot news topic in recent years. Green tea is a main staple consumed by Asian populations for thousands of years and is purported to have numerous beneficial effects on health - one of them being weight loss.
Jesus of Nazareth


Award winning film produced by Franco Zeffirelli, depicts the life of Jesus Christ from birth to resurrection. Originally made for television in 1977, this set is available on DVD or VHS. It´s been a few years since I last watched this awesome depiction of Christ´s life, but it still remains one of my favorite.